Shunnoshi Shichikashuku Agricultural Product Direct Sales Store
shopping_en / shichikashuku_town_en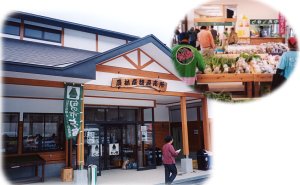 A place where local agricultural produce is sold. The nearby Nametsuo Waterfall is a sight to see.
There is a place where you can see the waterfall at the car park.
〒989-055512 Takinoue, Shichikashuku, Katta District, Miyagi Prefecture 989-0555

45~50 minutes from Shiroishi station, 60 minutes from Shiroishi interchange

【Full Working Hours】9:00~17:00

8000 yen during the season where there are edible wild plants and mushrooms.
Other / December ~March's holidays are on Wednesday.

有り

Cash