Miyagi Zao Royal Hotel
accommodation_en / zao_town_en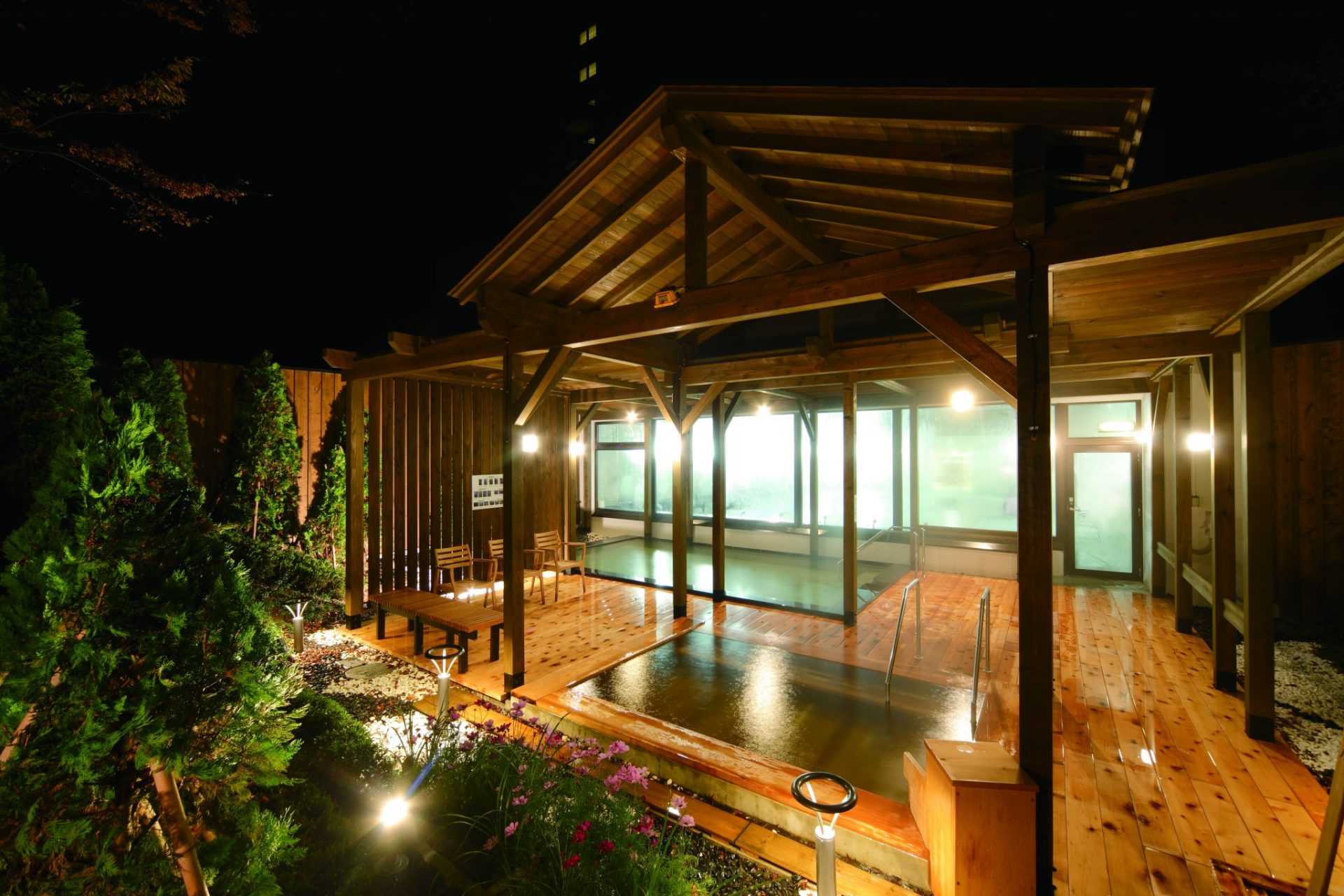 Wood deck and open-air bath
"「fudonoyu」is a name created due to a legend about a crab and eel that had a battle in the local area.

《The battle for Fudo waterfall》
Long Ago, Zaō-machi's 3-stage waterfall had a turtle living in it.
One day, the turtle wondered if he could make the waterfall his own.
As he thought that, a large eel moved into the waterfall.
The crab decided he wanted the waterfall and started fighting with the eel.
at the end of the fight, the crab had taken away 3 parts of the eel's body.
The head went to aone, the body to gaga, and the tale to togatta
it is said that thanks to this, the water goes to all of these different place."
Complete with lots of instructions
Places such as Main bar, Karaoke Bar, Relaxation salon, Shopping plaza, pool etc.
〒989-0916Oniishihara-1-1 Tōgattaonsen, Zaō-machi, Katta-gun, Miyagi-ken 989-0916

"If using public transport
For plane users
Sendai Airtport→Sendai Airport Access Freeway→Sendai station→Miyagi Public Bus→Miyagi Zao Royal Hotel
For train users
Shinkansen(Tokyo Station)→Tohoku Shinkansen→Sendai Station →Miyagi Public Bus→Miyagi Zao Royal Hotel
Shinkansen(Shin'aomori station)→Tohoku Shinkansen→Sendai Station →Miyagi Public Bus→Miyagi Zao Royal Hotel

When using Miyagi Public Bus
For our hotel, use Miyagi bus until Sendai Station ⇔Then there is a bus that will take you directly to the hotel.
For people staying at the hotel, see the below timetables★ means you can use it for free (The hotel will pay for you)
【Sendai Station Arrival】 ★13:38 / ★15:23 / ★16:10
【Hotel Arrival】 ★09:18 / ★10:45
※You must reserve 3 days in advance prior to 4pm. Please ensure you contact the hotel directly beforehand.
※There are 20 seats available, if these go then booking is no longer available.
※Sendai Station departure is from the 100 shops sakura number「33」
Miyagi Public Bus guide
From the fropnt of Sendai Station to Miyagi Zao Royal Hotel.(Fee)guide

For this you don't need reservations
For a return ticket,you pay after getting off the bus.
※Sendai Station (stop 33)~Miyagi Zao Royal Hotel (Via Tōhoku Expressway)
※Required time is 70minutes (Possibility to be late depending on the roads )
※Fee
Return Adult ¥1,230,Child half price
Return Adult ¥1,900,Child no dicount
※Questions: Miyagou bus TEL:(Company)022-771-5314

For cars
UrawaInterchange→Tōhoku Expressway →Shiroishi Interchange→Miyagi Zao Royal Hotel
Aomori Interchange→Tōhoku Expressway →Murata Interchange →Miyagi Zao Royal Hotel
Yamagata Zao Interchange→Yamagata Freeway→Sasadani Interchange→Miyagi Zao Royal Hotel "

Check-in 15:00 ,Check-out 11:00

10000 Yen~
No Fixed Holidays

有り

Cash,Card

022-434-3177