MIGAKI HOUSE
accommodation_en, activity_en, no-category_en / yamamoto_town_en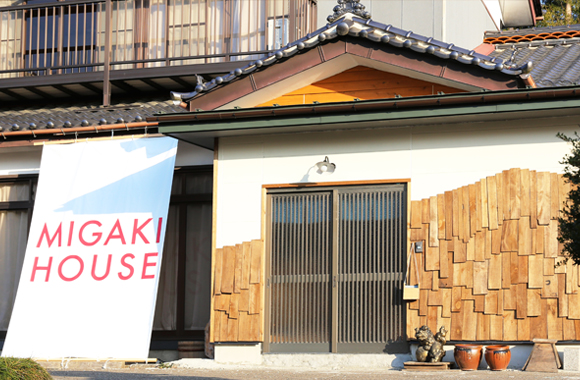 Guest house refurnished to an old palace of apple farmer
It is a guesthouse near the strawberry farm [ICHIGO WORLD] which grows the luxury brand "Migaki ichigo" of Yamamoto Town.
It was constructed by repairing an old private house which belonged to an apple farmer in a high and quite mountain area in Yamamoto town, on the border between Miyagi and Fukushima prefectures.
Kitchen cafe space
In the cafe space, stylish furniture made by utilizing solid wood and waste materials donated by the local residents, desk and chair are lined up. Here you can hold a fashionable party in such a gorgeous space.
Enjoy your BBQ party and don't worry about weather!
Next to the main house of the Migaki House there is a large barn that was used for the shipment of apples. It has a roof so you can enjoy BBQ being empty-handed without worrying about the weather. BBQ space (table, including chairs) is 500 yen/person, Equipment for rental: BBQ stove 500 yen/unit. BBQ net 300 yen/pc., coal 500 yen/box. Please contact us for details
〒989-22043-1, Washiashi-Minami,Yamamoto-cho, Watari-gun, Miyagi

4000yen