All Japan Stone Throwing Championship
event_fes_en / marumori_town_en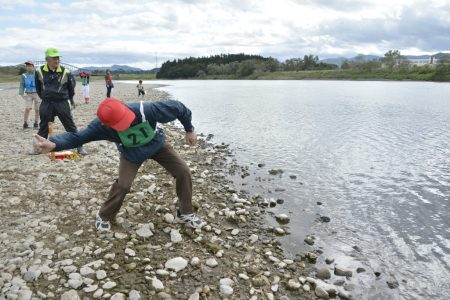 Happens every year!
Not only local people, but 100 pros from around the entire country come together for the All Japan Stone Throwing Championship, this is an event that happens every single year, and the people who take 1st, 2nd and 3rd, but everyone who participates receives a monetary prize.

(photo by : http://marumori.jp/blog/2016102723434/)
〒Miyagi Prefecture Marumori  Abukuma Kamo River(Marumori Hashimoto Left bank) 

Taxi from Marumori or runrungo bus takes 3 minutes, 15 minutes to walk.

【Full Working Hours】10:00~13:30

Participation fee:600 Yen(Comes with Imonijiru and Rice Balls)/Payment is done on the day, however, you have to apply for participation.  The divisions are as follows 1. Preschool children 2. Elementary School students (Years 1 through 3) 2 Elementary School students (Years 4 through 6) 4 Middle School Students Males 5 Middle School Students Girls 6 Highschool Boys 7 Highschool Girls 8 Elderly Lower Bracket (65~74 years of age) 9 Elderly Higher Bracket (75 and over) Each bracket has its own ranking from 1~3rd place. Everyone recieves a monetary prize for participating.
1028~1028

有り

Cash

022-472-2361