Shiroishi Agricultural Festival
event_fes_en / shiroishi_city_en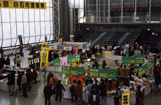 Shiroishi Agricultural Festival
"""Loads of local products! Lots of fresh vegetables, we are waiting for you all with our sunchokes and various special fruits.

With other events on the stage such as our sister cities Hokkaido's Noboribetsu city and Kanagawa's Ebina City, with rice collecting as well as various food and rest areas and stands. There is also a free shuttle bus from JR Shiroishi station, please visit with your friends and family!"
Sasanishiki Project
They are trying to revive the "sasanishiki" brand of rice.
〒1-1 2choume,Takasuhigashi, siroisi, Miyagi

JR Main Line ・Shiroishi Station walking distance is 25minutes JR Tohoku Shinkansen・Shiroishi Zao Station walking distance is 10minutes , Or Tōhoku Expressway ・Shiroishi Interchange is 15minutes by car

Free
1101~1130

No Fixed Holidays

有り