Zao Takeizumi Sho (Manor) Chikusenso Mt  Zao Onsen Resort & Spa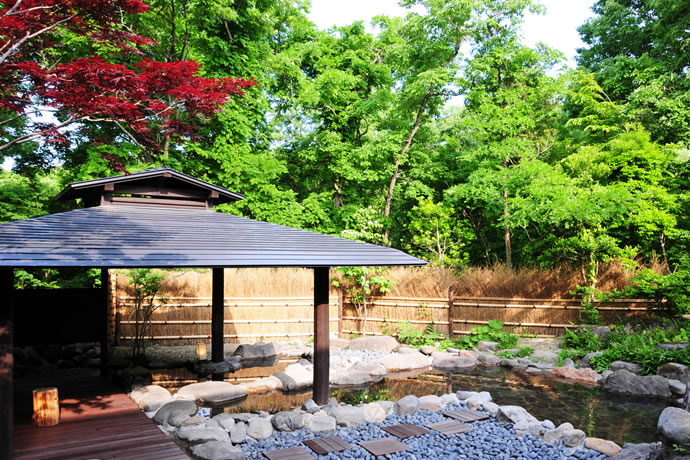 They aim to provide the best quality of comfort.
Takeizumi Sho (manor) is a location that sits at the foot of Mt. Zao, and is a resort hotel. It has a forest that spreads 20,000 meters, as well as a clear stream that heals everyone's hearts and mind. The inside where the wind of art surrounds you, an abundance of hot springs water, and a tranquil kakenagashi hot springs, comes with real Japanese cooking, and the best hospitality. Please enjoy staying here to the fullest. The design and context was "modern Japanese", and using the skills of skilled designers and craftsmen, as well as natural materials, they created the perfect "modern Japanese" world for you to enjoy. They offer various different ways of spending your time here, with different interiors and many useable features in not only the guest rooms, but with spa and fitness utilities, gallery and shop, and even a meeting room for businesses or groups among other public spaces.
Surrounded by the scent of trees, a tranquil location to bathe in.
With over 400 years of history, and an amazing amount of hot springs water, a well known and loved hot spring Togattaonsen also known as "the god of hot springs", has all the equipment and facilities when partnered together with Takeizumi Sho (manor). It has an open air bath on a wood deck that gives you a sense of spaciousness, a legendary hot spring where you can bathe whilst watching the mountain streams, as well as a huge indoor public bath, you can bathe here to your hearts content. The males Takeorinoyu is a relaxed atmosphere, and if you go outside, you can enjoy the rural beauty in any season whilst enjoying the kakeshi hot springs. We also recommend taking breaks on the wood deck. The women's Mizunaranoyu, is large, with a glass window showing the outside, shows scenery almost like a picture book with your eyes being filled with trees. with the nearby stream as well, it's almost as if you're sitting within nature itself. There are 2 different outdoor hot springs which you can rent. Both can be used for free by people staying at the lodge. They need to be reserved, so please keep that in mind.
The Bar
"A Natural counter, cloth made with the Mt.Zao in mind, chairs that have touched the foot of the mountain, with traditional and stylish things, this is a space that warms your heart. Drink alcohol from flashy cocktail glasses together with your friends, and enjoy an evening packed with interesting performances.

Japanese cooking「Kamajin」
A restaurant protected by ""kamadonokami"". ""Kamajin is a space that is covered in indirect lighting making it really relaxing.
Table seats as well as courtyard seats and semi-private rooms, an iron-board counter is also available for your use.
With a ceiling blown with golden leaves, and walls that have character and style, sendaitansu's wine cellar, everything allows you to enjoy our establishment with the best of atmospheres.

Library Lounge
In our library lounge with a huge, characteristic bell on display, you can all read visual books or magazines whilst drinking coffee from our coffee machine all for free.
Also, on weekends there is life piano performances for your listening pleasure.

Fitness Gym
At our fitness gym you can use the latest machines for free
Open hours/10:00~22:00"
〒989-0916Uwanohara-88-11 Tōgattaonsen, Zaō-machi, Katta-gun, Miyagi-ken 989-0916

"Transport bus
Start:JR Sendai Station 13:30
End:Takeizumi Sho (Manor) 11:00
Location JR Sendai Station Eastern Entrance 1 floor bus pool
For cars
▼From Tokyo
Tokyo→Capital Freeway→Urawa I C →Tōhoku Expressway → Shiroishi I C (Or Murata IC )
→Getting to the eboshi ski resort takes around 20~30minutes →Takeizumi Sho (Manor)
【Required time】4 hours and 40 minutes
▼From Sendai
Sendai Miygi I C →Tōhoku Expressway →Shiroishi I C (Or Murata I C )→ →Getting to the eboshi ski resort takes around 20~30minutes →Takeizumi Sho (Manor)
【Required time】1 hour 10 minutes
For the shinkansen
▼From Tokyo Station
(1) Tohoku shinkansen「MAX Yamapiko」→Shiroishi Zao Station
【Required time】1 hour and 55minutes
Shiroishi Zao Station to the Eboshi ski resort takes 40 minutes by taxi and 50 minutes by Miyakou bus. (Return ticket is 920 yen)
(2) Tohoku shinkansen「Hayabusa」→Sendai Station
【Required time】1 hour 32minutes
Direct bus from Sendai takes 60minutes (Reference above)
Express bus from Sendai takes 72minutes  Togattaonsennoyu is the drop-off, 5 minutes by taxi from there
For planes(Sendai Airport)
▼Kansai National airport
【Required time】1 hour 20 minutes
▼Osaka National Airport・Itami
【Required time】1 hour 10 minutes
▼Funaoka Airport
【Required time】1 hour 40 minutes and then 60 minutes by car after landing
If using the bus from Sendai station
Sendai station bus stop number 33→Togattaonsennoyu is the drop-off, 5 minutes by taxi from there"

Check-in 15:00 Check-out 11:00

32000 Yen~
1001~0228

Other / There are times when the store closes due to maintenance.

有り

Cash,Card

022-434-1677